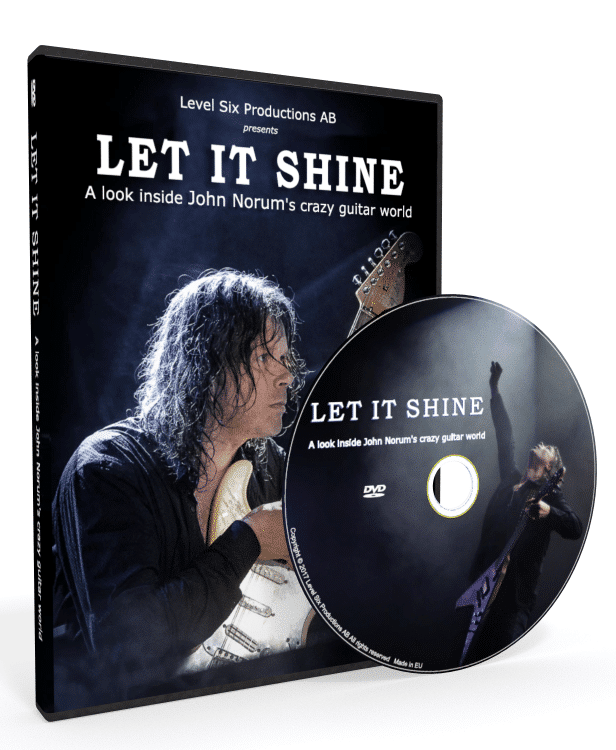 April 27, 2017: "LET IT SHINE – A look inside John Norum's crazy guitar world" DVD RELEASE DAY
February 23, 2017 – PRESS RELEASE
John Norum: LET IT SHINE – A look inside John Norum's crazy guitar world (HD DVD)
© 2017 Released by Level Six Productions AB, Sweden
Hashtags: #JohnNorum #LetItShineDVD
We proudly announce that the worldwide well known and appreciated blues-rock guitarist JOHN NORUM is about to start the PRE-ORDER of his first own DVD, that will be exclusively sold through this website's SHOP section at https://johnnorum.se/shop/
Not a traditional instructional DVD but "…more of a song-oriented thing" as John defined it, a journey into his playing through some of his most famous guitar solos – played also slowly and described in the details for those who want to learn them – and through the description of his guitars and gears.
The release includes a must-have EIGHT-PAGES BOOKLET for collectors with EXCLUSIVE photos by Tallee Savage, and TWO BONUS FEATURES containing behind-the-scenes footages and interviews with musician friends.
A LIMITED number of copies will be SIGNED by John, on a first come, first served basis.
"I think it came out great!" – John says – "It's loose and fun which is what guitar playing is all about!"
DVD-PACK HARDCOVER
Language: English
Running time: 83 minutes
Subtitles options: Italian, Spanish, French and Japanese
Produced by John Norum and Peer Stappe
Filmed by Peer Stappe at Play Yard Studios and Polar Studios, Stockholm (SE)
Videointerviews filmed by Francesca Bevilacqua
Post production by John Norum and Peer Stappe
Graphic design and subtitles by Francesca Bevilacqua
Cover and booklet photos by Tallee Savage
Disc photo by Anita Søderlind Andersen
Authoring at MEDIArun Padova (IT)
Manufactured at Shelve Supporti Ottici Milano (IT)
Click an image to enlarge and enjoy the whole gallery in a lightbox!
EU Countries: Austria, Belgium, Bulgaria, Croatia, Cyprus, Czech Republic, Denmark, Estonia, Finland, France, Germany, Greece, Hungary, Ireland, Italy, Latvia, Lithuania, Luxembourg, Malta, Netherlands, Poland, Portugal, Romania, Slovakia, Slovenia, Spain, Sweden, United Kingdom.
non-EU Countries: Norway, Switzerland, Africa, Russia, Asia, Americas, Australia.
Allowed payment methods: PayPal, Credit/Debit cards
TV system: PAL (sold out), NTSC
RETURN / REFUND POLICY
The placed order can be canceled within 14 days, the refund will be made quickly and in full via PayPal.
The copy of the DVD that has been accidentally damaged during transport, to the point of being unusable, can be replaced.
The customer must send an email to shop@johnnorum.se with a photo of the damaged disc for return approval. The damaged copy must be returned to sender in its original packaging, within 14 days of receipt, date as postmark.
Freight expense is at the customer's charge. The damaged copy will be replaced as soon as possible.
Check WHO's talking about John Norum's DVD: Facebook Note