NTSC system 30% off: 21 EUR (instead of 30 EUR)
now available also for Zone 1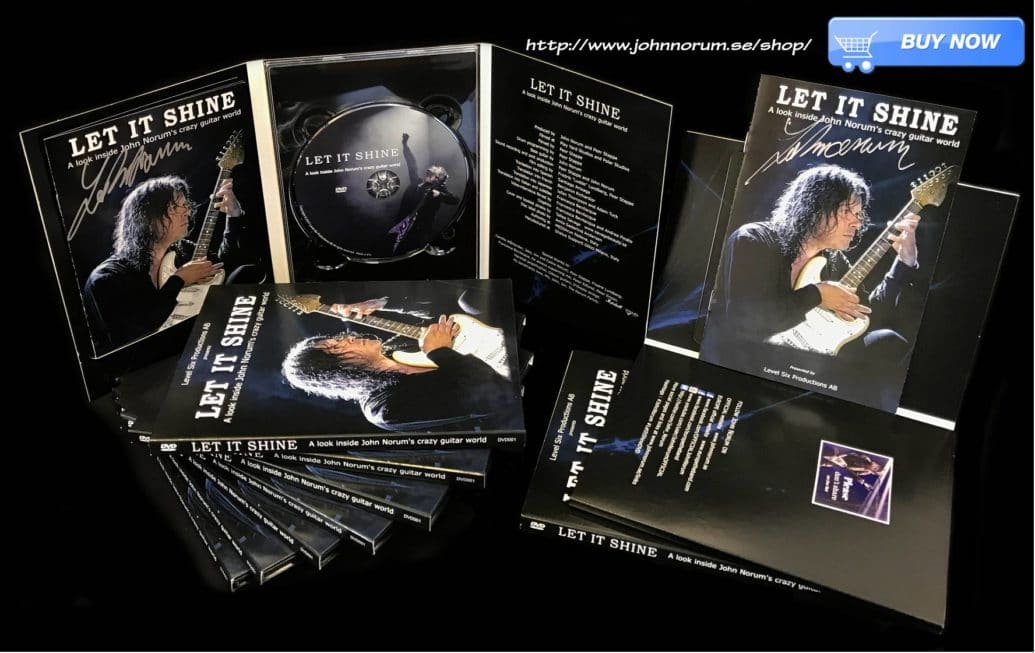 "LET IT SHINE – A Look Inside JOHN NORUM's Crazy Guitar World" DVD


NTSC version 30% off
Check your shipping ZONE before checking out.
NTSC system is the video standard for: Canada, Chile, Costa Rica, Cuba, Dominican Republic, Ecuador, Japan, Mexico, Nicaragua, Panama, Peru, Philippines, Puerto Rico, South Korea, Taiwan, U.S.A.

VAT (Tax rate 25%) where applied INCLUDED
Handling and packaging INCLUDED
SHIPPING NOT INCLUDED (Purchasers can choose between a STANDARD or REGISTERED shipping)
Custom fees when applied NOT INCLUDED
Allowed payment methods: PayPal, Credit/Debit cards
PAL system: 21 EUR – SOLD OUT!
RETURN / REFUND POLICY
The placed order can be canceled within 14 days, the refund will be made quickly and in full via PayPal.
The copy of the DVD that has been accidentally damaged during transport, to the point of being unusable, can be replaced.
The customer must send an email to shop@johnnorum.se with a photo of the damaged disc for return approval. The damaged copy must be returned to sender in its original packaging, within 14 days of receipt, date as postmark.
Freight expense is at the customer's charge. The damaged copy will be replaced as soon as possible.
When the copies are shipped, the buyers will receive another email notification with the date of shipping and a tracking number, if available.
Please check your Country's shipping Zone below, before accessing the payment form
EU COUNTRIES:
Austria, Belgium, Bulgaria, Croatia, Cyprus, Czech Republic, Denmark, Estonia, Finland, France, Germany, Greece, Hungary, Ireland, Italy, Latvia, Lithuania, Luxembourg, Malta, Netherlands, Poland, Portugal, Romania, Slovakia, Slovenia, Spain, Sweden, United Kingdom

NON-EU COUNTRIES:
Norway, Switzerland, Africa, Russia, Asia, Americas, Australia
STANDARD shipping: Economy, not tracked. "Posta4" (to Italy), "Postamail Internazionale" (other Countries)
National/International REGISTERED shipping: Tracked 'til delivery. "Raccomandata" (to Italy), "Raccomandata Internazionale" (to other Countries)
Shipping ZONE 1:
Albania, Algeria, Andorra, Austria, Azores, Belgium, Belarus, Bosnia and Herzegovina, Bulgaria, Croatia, Czech Republic, Cyprus, Denmark, Egypt, Estonia, Faroe (Islands), Finland, France, Germany, Gibraltar, Great Britain, Greece, Guernsey, Holland, Hungary, Iceland, Ireland, Israel, Jersey, Jordan, Latvia, Liechtenstein, Lithuania, Lebanon, Lybia, Luxembourg, Macedonia, Malta, Man Islands – Great Britain EU, Moldova, Monaco, Montenegro, Morocco, Norway, Poland, Portugal, Republic of San Marino, Romania, Russia, Serbia, Slovakia , Slovenia, Spain, Sweden, Switzerland, Tunisia, Turkey, Ukraine, Vatican
Shipping ZONE 2:
Afghanistan, Angola, Anguilla, Antigua & Barbuda, Argentina, Armenia, Aruba, Ascension – Islands (Uk), Azerbaijan, Bahamas, Bahrain, Bangladesh, Barbados, Belize,Benin, Botswana, Bermuda,Bhutan, Brunei, Bolivia, Bonaire – (Netherlands Antilles), Brazil, British Indian Ocean Territory, British Samoa, Burkina Faso, Burundi, Cayman Islands, Cambodia, Cameroon, Canada, Cape Verde, Central African Republic, Chad, Chile, China, Colombia, Comoros, Congo (People's Republic), Costa Rica, Cuba, Curacao, Djibouti, Dominica, Dominican Republic, East Timor (East ), Ecuador, El Salvador, Equatorial Junea, Eritrea, Ethiopia, Falklands (Islands), Gabon, Gambia, Georgia, Ghana, Grenada, Greenland, Guadeloupe, Guantanamo Bay, Guatemala, Guinea, Guinea Bissau, Guyana, Guyana (French), Haiti, Honduras, Hong Kong, India, Indonesia, Iran, Iraq, Ivory Coast, Jamaica, Japan, Kazakhstan, Kenya, Kyrgyzstan, Kuwait, Laos, Lesotho, Liberia, Macao, Madagascar, Malawi, Maldives, Malaysia, Mali, Martinique, Mauritania, Mauritius, Mayotte, Mexico, Mongolia, Montserrat, Mozambique, Myanmar Burnma (Burma), Namibia, Nepal, Nicaragua, Niger, Nigeria, North Korea – Dem. Rep., Oman, Pakistan, Panama, Paraguay, Qatar, Peru, Philippines, Puerto Rico, Republic of Congo, Reunion (Islands), Rwanda, Saba – (Netherlands Antilles), Saudi Arabia, Singapore, Sri Lanka, South Korea, St. Christopher, Saint Barthelemy – (St. Barth), Saint Eustatius – (Netherlands Antilles), Saint Lucia, Saint Pierre & Miquelon, Saint Vincent (And Granadines), Senegal, Seychelles, Sierra Leone, Sint Maarten, South Africa, South Georgia and The South Sandwich Islands, South Sudan, St. Elena (Island Of), St. Thomas And Prince, Sudan, Suriname, Swaziland, Tajikistan, Taiwan, Tanzania, Thailand, Togo, Trinidad & Tobago, Tristan Da Cunha, Turkmenistan, Turks And Caicos Is., Uganda, United States, United Arab Emirates, Uruguay, Uzbekistan, Venezuela, Vietnam, Virgin Islands (US) – Br, Virgin Islands (US) – (St. Tomas & St. Croix), Zambia, Zimbabwe
Shipping ZONE 3:
Australia, Cook (Islands), Fiji (Islands), French Southern and Antarctic Territories, Guam, Kiribati, Marshall (Islands), Micronesia (Caroline Islands), Nauru, New Caledonia, New Zealand, Niue, Norfolk Island, Palau, Papua New Guinea, Pitcairn, Polynesia ( French), Saipan (Mariana Islands), Samoa (American), Solomon Islands (Islands), Scattered Islands, Tokelau, Tonga (Islands), Tuvalu, Vanuatu, Wake, Wallis & Futuna (Islands)